Representing the leading Automobile & Homeowners Insurers
The Personal Insurance Federation of California is a Sacramento-based association of the leading property and casualty insurance companies on issues of homeowners, automobile, earthquake, and flood insurance in California.
Our mission is to keep personal insurance affordable and available for consumers through advocacy and political action. 
Our Priorities
PIFC represents our member companies before California State government.  Our issues are narrow but important: personal lines property and casualty insurance.
Personal lines are the type of insurance sold to individuals, like auto, home, flood, and earthquake.
Property and casualty insurance receives significant oversight from the California Department of Insurance (CDI), and became subject to state price controls when Proposition 103 passed in 1988. 
PIFC lobbies all branches of state government and organizes political and grassroots activities.
PIFC Accomplishments
Since our founding in 1989, following the passage of Proposition 103, PIFC works diligently to provide leadership in the development and passage of policies to help individuals have access to property and casualty insurance in California.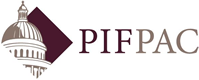 Join the 1,500 agents and employees who make up PIFPAC and help elect legislators who understand the needs of the insurance industry.